Commercial and Pressure Cleaning Services in Sydney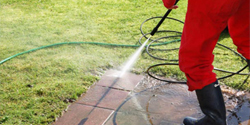 The team at A1 Lawncraft is able to provide businesses a personalized and comprehensive range of commercial cleaning and Pressure Cleaning services in and around Sydney. We understand that every commercial Organization has its own different sets of cleaning and maintenance needs, that's the reason why we implement customized cleaning services that may cover every corner of the project.
We use the advanced tools and technologies to tackle any size of project whether small or big. We guarantee that, your tired and stained property will be restored to its original shine through our eco-friendly water pressure system. If your home/office needs a facelift then our pressure cleaner Sydney is the ultimate solution. We ensure our pressure cleaning will increase the value of your property.
We are prompt & profoundly interested to undertake any lawn care, gardening, landscaping, rubbish removal & pressure cleaning services for any type of clients whether domestic, commercial or industrial. No matter what kind of project whether big or small we being customer enthusiast are always available for our customer-service, 7 days a week and even on public holidays. For our clients' convenience, we provide no obligation free quote.We can also guarantee our quotes, giving you security and peace of mind that there won't be any nasty surprises and if you're not satisfied with the work we've done, just let us know as we guarantee the quality of our work too.
If you want to spend your time enjoying your lawn, garden, and backyard and not sweating or stressing about maintaining it, give us a call, we will be there right away.
A1 Lawncraft & Cleaning Services
Whether you have a Lawn that just needs mowing or if you have a more comprehensive task like a garden makeover, rubbish removal or pressure cleaning rest assured that at A1 Lawn Craft & Pressure Cleaning Services we are experts to deal with any of your requirements promptly. We can have your home/office surroundings look fantastic in no time at all.
We furnish a wide array of personalised and prompt lawn care, gardening, landscaping and cleaning services to a diverse range of customers throughout Sydney. We are conscientious small business, who believes thoroughness & attention to detail. So with us you will have full satisfaction & peace of mind. Our policy is to promote good environmental practices and sustainability. We are committed to apply only the environmentally preferable products for minimising any adverse environmental effects. Our quality workmanship, advanced technologies as well as our comprehensive experience & expertise keen to ensure our valued clients receive the quality of Pressure Cleaning service that will exceed their expectation.