Our Small Tree Pruning Services in Sydney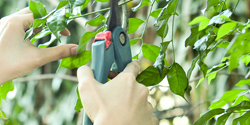 A1 Lawncraft provides specialist tree pruning services in Sydney and surrounding areas with over 20 years experience in the Shrub removal and Tree Lopping service industry. Our team is totally qualified and authorized to handle any form of flora-related problems without resorting to lopping.
Our main speciality is the removal of any kind of trees or branches which you do not want. Those who are planning for a Shrub removal in Sydney need look no further than our qualified experts. We cover the residential, commercial and government sectors with all aspects of tree Pruning services in Sydney.
Our team is trained arborists and horticulturalists who offer you expert advice and highly professional tree lopping service in the Sydney region. We have an extensive range of vehicles, machinery and safety equipment that our employees are qualified and experienced in using.
Small Tree Lopping Services
Is the shrub in your garden causing you problems ? The much more you check it out , does it look like less safe than it once did ? The solution to this issue , or any other issues you might have regarding removing an unnecessary tree, is simple. Call A1 Lawncraft for Tree Pruning and Tree Lopping services.
Our Services Includes...
Tree lopping throughout Sydney.
Tree pruning and Shrub Removal.
Stump Grinding.
Land Clearing.
Tree Cutting.
While trimming trees and the removal of tree waste you may need a team who is able to offer professional services and guidelines . Our reliable and knowledgeable team will assist you to take care of and maintain your trees so that they always stay healthy and look good . We also make sure all sites are left clean and nice looking upon the fulfillment of a work .
For Tree lopping,tree pruning or any other tree Services, please contact our experienced team of experts now on 0439 264 601.
Servicing Areas in Sydney, NSW:
Elizabath Hills - Edmontion Park - Hoxton Park - Casula - Chipping Norton - Greystains - Auburn - Five Dock - Abnortsford - Lilyfield